Conferences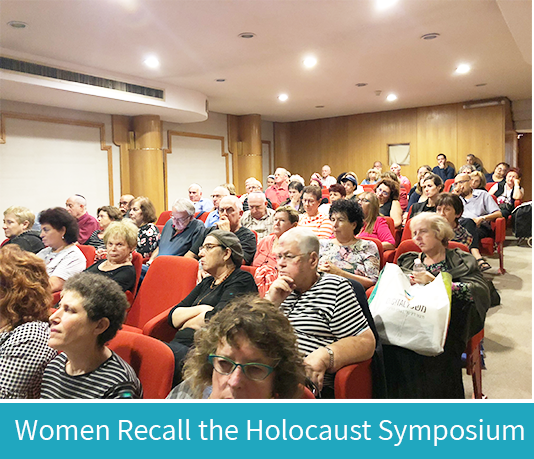 The Arnold and Leona Finkler Institute of Holocaust Research at Bar-Ilan University sponsors annual conferences and symposia.
Among them are:
An annual seminar commemorating "Kristallnacht".
A joint seminar with the Israel and Golda Koschitzky Department of Jewish History and Contemporary Jewry commemorating the 10th of Tevet, the "General Day of Kaddish".
A seminar to mark the International Holocaust Memorial Remembrance Day, January 27.
A joint seminar with the Israel and Golda Koschtizky Department of Jewish History commemorating Yom Hashoah (27 Nissan), and the annual Pflager-Ziskind prize-giving ceremony.
An Annual "Spiegel Fellows" Conference.
An end of academic year symposium.
The Institute also sponsors additional conferences and symposia about the Holocaust both at Bar-Ilan University and outside the university.
---
Conferences 2019-2020
Please click on the poster in Hebrew to receive an English translation
| | | |
| --- | --- | --- |
| | | |
| "In the Paths of Rescue: Rescuing Jews During and After the Holocaust" Marking the 81st anniversary of "Kristallnacht" | The Struggle over "the Holocaust Narrative in Eastern Europe: The Case of Lithuania", in connection with the publication of "Journey with the Enemy: The Participation of Lithuanians in Holocaust ‏Atrocities" (Heb.) by Efraim Zuroff and Ruta Vanagaita | Depicting Violated Jewish Women During the Holocaust: In Memory of Nava Semel |
| DUE TO THE COVID-19 PANDEMIC THE CONFERENCE WAS PUBLISHED AS A HEBREW DIGITAL BOOK | DUE TO THE COVID-19 PANDEMIC THE CONFERENCE HAS BEEN POSTPONED | DUE TO THE COVID-19 PANDEMIC THE CONFERENCE WAS PUBLISHED AS A HEBREW DIGITAL BOOK |
| "You Shall Choose Life": Jews Choosing Life During and after the Holocaust, The Second Spiegel Fellows Conference | Travels to the Valley of Death: Educational Trips to Poland, Lithuania and Eastern Europe in the Eyes of Religious Zionism | "Creating Memory" and the annual prize ceremony in memory of author Sarah Plager-Ziskind and her husband Eliezer Ziskind z"l |
| | | |
| --- | --- | --- |
| DUE TO THE COVID-19 PANDEMIC THE CONFERENCE HAS BEEN POSTPONED | | |
| Holocaust, Rebirth, Activity and Documentation, A Symposium in Honor of Yitzhak Meir and Moshe ("Moshko") Moshkovitz Bar Ilan University, Monday June 15, 2020, Beck Hall | | |
Last modified: 18/05/2020